Restoration
---
The Lantern Room
A total restoration of the lantern room atop the Pt. Sur Lighthouse was completed on January 13, 2001. The restoration was carried out by the International Chimney Corporation, the company that moved and restored the Cape Hatteras Lighthouse in North Carolina.
Pt. Sur's lantern room was suffering from rust and corrosion. Incompatible metals were eating themselves up and water poured into the tower when it rained. A bullet hole graced the cupola. During the six month restoration, International Chimney removed lead paint, recast parts, patched other pieces with a titanium bonding agent, cleaned and coated brass; and then put everything back together, repainting the entire metal structure with a special paint that cures by drawing moisture out of the metal itself. The tower has been painted black, the correct color for the 1929, the period to which Pt. Sur is being restored.
With a $25,000 grant to get started from the National Maritime Heritage Grant Program, the Central Coast Lighthouse Keepers contracted with International Chimney for a total cost of $309,000 to restore the metal and glass lantern room. The U.S. Coast Guard, who owns the lighthouse, reviewed and approved the plans and the California Department of Parks and Recreation contributed maintenance funds as allowed by their contract with the Coast Guard. The Community Foundation of Monterey County donated an additional $13,740. The vast majority of the project was funded by CCLK through tour fees, gift shop sales, memberships, donations, matching grants and the "Buy a Prism" project.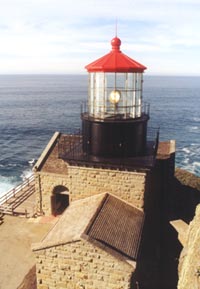 The newly restored tower is painted black,
the historic color of Pt. Sur's Lantern Room




Before restoration, rust outside the Lantern Room was a serious problem.
The tower was shrouded to contain lead paint removed and to shelter workers from the often gale force winds.
Inside the Lantern Room, corrosion was destroying important support elements.
---